First time in 3 years! Hoteles" is still interesting!

Hello, I'm Shinya, the editor of Gurutto Kitchen.
 I usually don't write articles as I am the editor-in-chief of Gurutto Kitchen. I don't usually write articles because I'm the editor-in-chief, but this time, I'm taking up the pen because it's been a while since I've exhibited at Hoteles.

That's right, I exhibited at Hoteles for the first time in three years. This year it was for four days, from February 7 to 10.

Due to Corona, we had to give up exhibiting last year and the year before, and we were finally able to exhibit this year.

What is Hoteres? What is Hoteles anyway? I know some of you may be wondering, so let me give you a brief introduction.

The so-called "Hoteles" is the abbreviation for the International Hotel and Restaurant Show, which will be held for the 51st time this year.

We have been participating in this exhibition for many years, and many people involved in the food and beverage industry are familiar with this event.

The show covers a wide range of products, from kitchen machinery and cooking utensils (this is the category in which we are mainly involved), plates and glasses, to bedding, IT, robots, and more...a variety of manufacturers and trading companies line the stands.

It is a product trade show for people working in hotels, inns, restaurants, and other "food-related" businesses.



The "Tokyo Big Sight" is a familiar name to everyone, and the biggest exhibitions in Japan are either held at Makuhari Messe or here.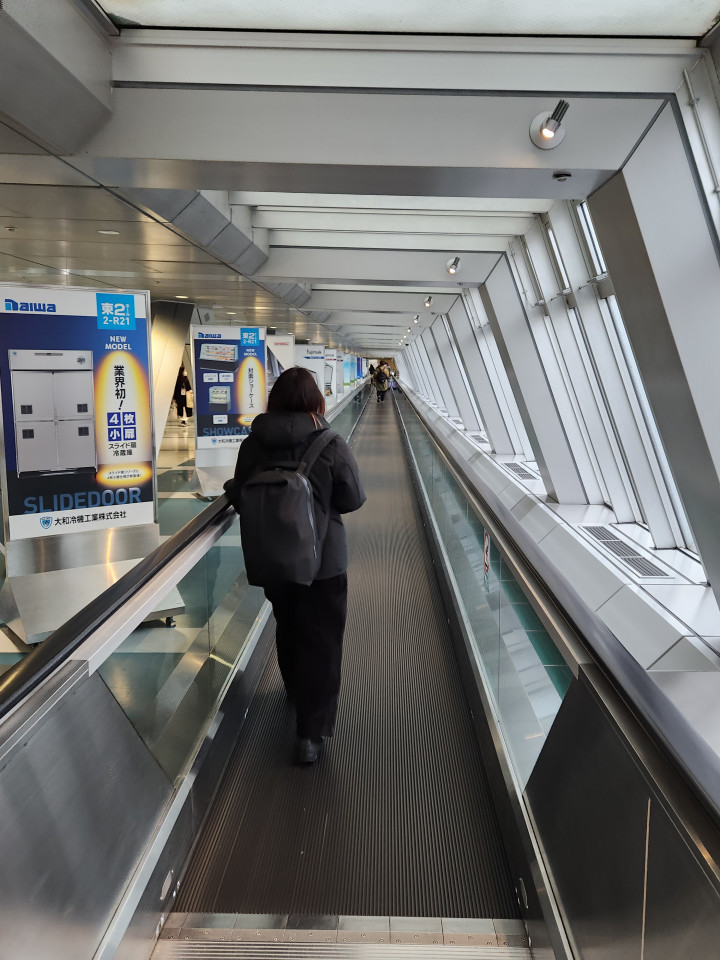 Whenever you enter the exhibition hall, you will pass this long moving walkway. When you pass through here, you get the feeling that another year is about to begin. After a short walk through the moving walkway, you arrive at the hall area.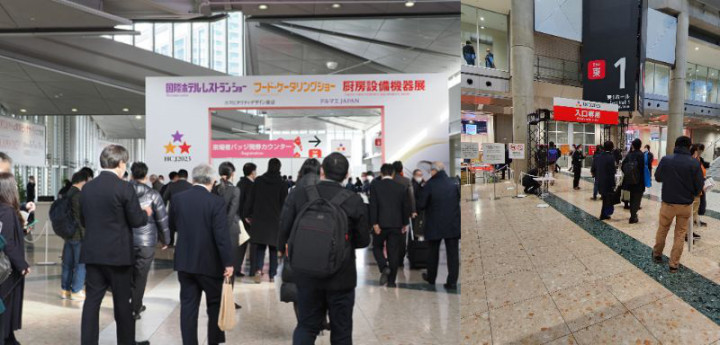 You can see the reception gate. Oh, it is crowded with visitors right away.

After visitors finish the reception and pass through the gate of the East 1 area...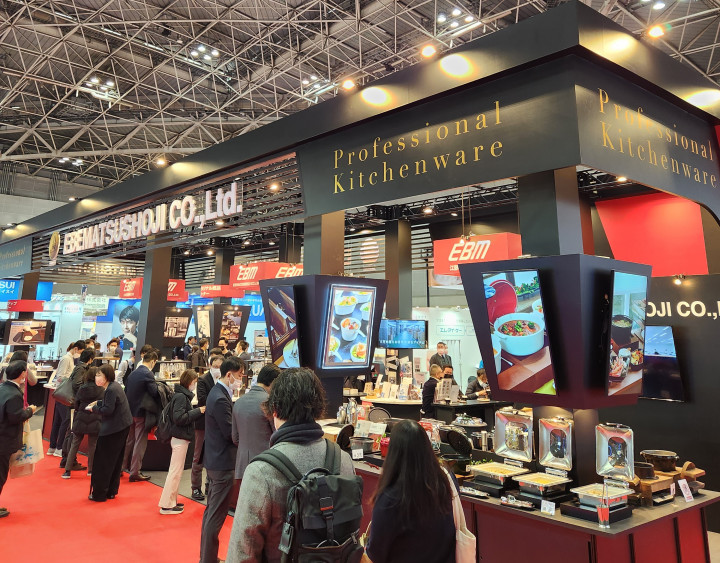 Yes, boom! Our booth has arrived! (Actually, it is the closest to the entrance.)

(Actually, it is the closest to the entrance.) We have created a cool booth with a strong presence again this year. Thanks to the planning members.

Every year, we have a theme for our exhibit at Hoteles.

This year's theme was "Festival. This does not mean that we will be carrying a portable shrine.

We decided on this theme because it has been a while since we have met with end users and partners, and we hope that they will feel the fun atmosphere.

And what makes the "festival" more exciting is "good food" and "good sake! So we asked two local Niigata restaurants, Kappo Watanabe and Sasashuku Sake Brewery, to join us to provide food and sake tastings!

The tasting included deep-fried prawns and sake called "Shukufuku".

My impression of the taste was... "It's just a marriage of deliciousness!" ・・・・ Excuse me.

But it was that good.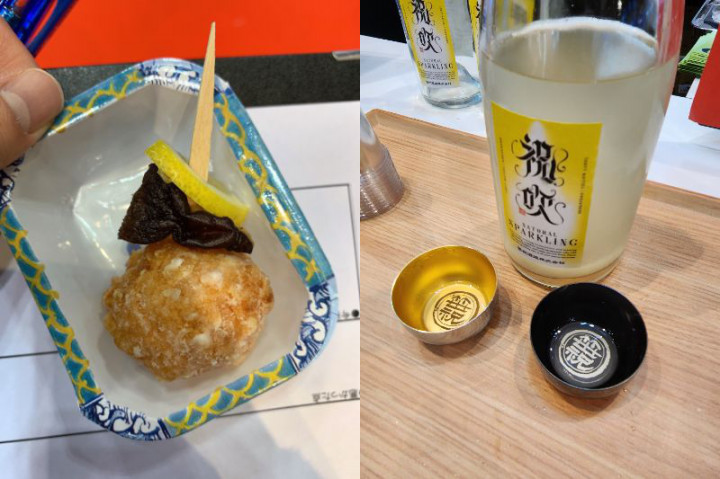 The fine bubbles with seasonal shiitake mushrooms and lemon are refreshing on the palate!
The mariage is luxurious with bright red nanban prawns.
The sake is sparkling sake with a refreshing aroma and a smooth taste. How could it not be delicious?
The Ebi Majo was limited to 300 servings per day for two days, but the sake was served for four days.
We will introduce you to the respective websites of each of them.
日本料理 | 割烹 渡辺 | official site (kappou-watanabe.net)
 Japanese Cuisine | Kappou Watanabe | official site (kappou-watanabe.net)

Sasaiwai Sake Brewing Company (sasaiwai.com)

We would like to thank Kappou Watanabe and Sasaiwai Sake Brewery for their kind cooperation.

  Now, the main topic is the products to be exhibited. The product composition and layout were designed to give visitors a clear image of how the products would be used in the restaurant.

First of all, products for the buffet area. Colorful pots and pans, wooden fixtures, and other products that would be used in a high-end restaurant.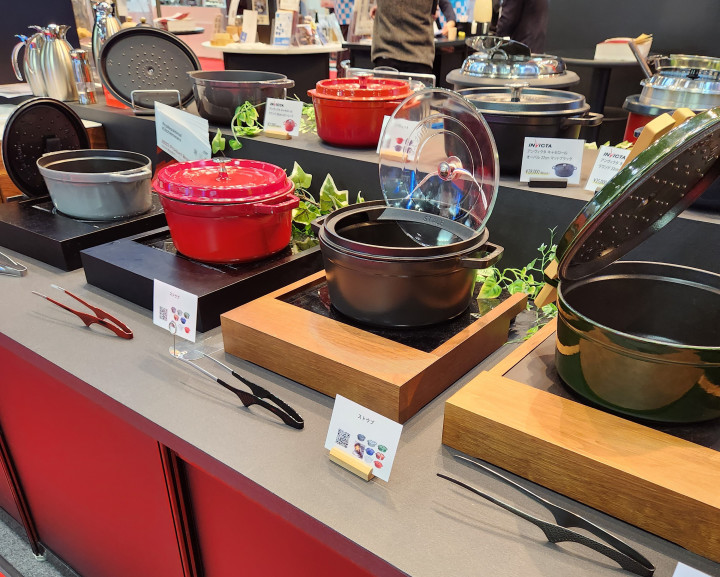 The woody image was used while adding a touch of color.

The wooden frame for IH cookers in the foreground of the photo is a very popular product!

Many users, including hotels, were eagerly looking at this buffet corner.

This buffet corner was viewed enthusiastically by many users, including hotels.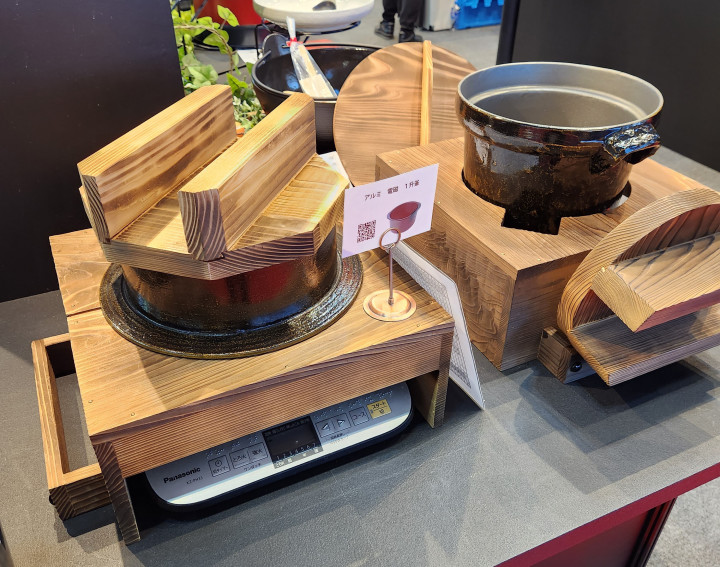 We also have a Japanese style kamado-style rice cooker like this one.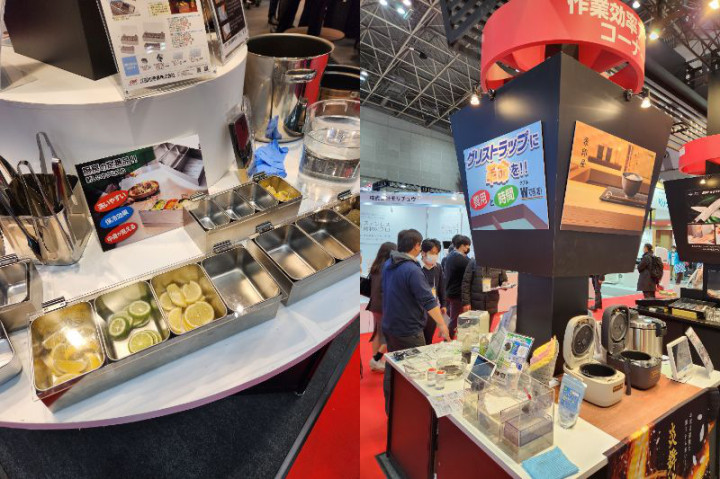 Next is the "Productivity UP Corner"!

There is an unprecedented labor shortage in the food and beverage industry. We have gathered together products that can contribute to increased productivity, even if it is only in a small way, in the hopes of helping such workplaces.

The product shown in the photo is a product that was born out of a "store's cry of distress.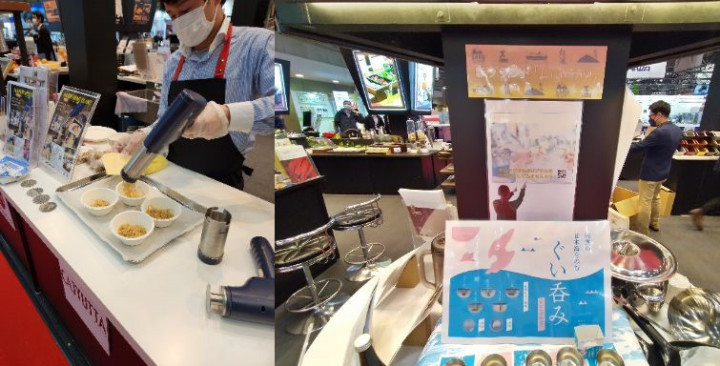 This is a demonstration of the new handheld Mont Blanc machine. The machine is a product related to the Montblanc brand, which is very popular, and there were no end of visitors to the demonstration.

We are also developing a project to produce collaborative products under the brand name "Li:mmy" with our partners. The goupon in the photo is a product with a logo made in collaboration with Sado Kisen.

It is selling quite well!

There are many more products we would like to show you, but this is the end of our introduction.

For more information about our products, please visit our website. We have a lot of useful items.

Please take a look at our website for more details.

EBEMATSU SHOJI HP https://www.ebematsu.co.jp/

江部松商事HP https://www.ebematsu.co.jp/
A Place of Awareness and Discovery

I have talked about many things, but some people may say that Hoteles is just a trade show after all.

It is true that a trade show is just a trade show where products are presented to visitors and orders are received. That's the basics of an exhibition.

But that's not all.

Some visitors say, "I've never seen this product before," or "I want this product," even though it is a familiar product to us.

We sometimes receive harsh comments from visitors about products that we are confident of exhibiting.

I have received many questions when I was worried that a good product would not stand out.

Every time I look back, I realize that Hoteres is a place of awareness and discovery.


Every time I go out, I discover something new! I think that hoteles are interesting!


I hope you readers will come and visit us next year. We are looking forward to seeing you at Big Sight.


This year's Hoteres has come to a successful conclusion. Thank you all for your hard work.    

                           Cheers!