From Tsubame City to the World! EBESHIMATSU SHOJI is struggling hard in Las Vegas, the city that never sleeps!
Covid has settled down, and many exhibitions have been held in various parts of the world,
EBEMATSU SHOJI participated in the "BAR & RESTAURANT" in Las Vegas at the end of March.
We participated in the "BAR & RESTAURANT EXPO 2023" held in Las Vegas at the end of March.
This exhibition is designed for restaurants and nightclubs that serve alcoholic beverages.
This exhibition is for restaurants and nightclubs where alcohol is consumed and deals with a wide range of products from equipment to food and beverage. In one corner, there is a "Japan Pavilion" where Japanese food and made-in-Japan products are exhibited.
So, we arrived in Las Vegas!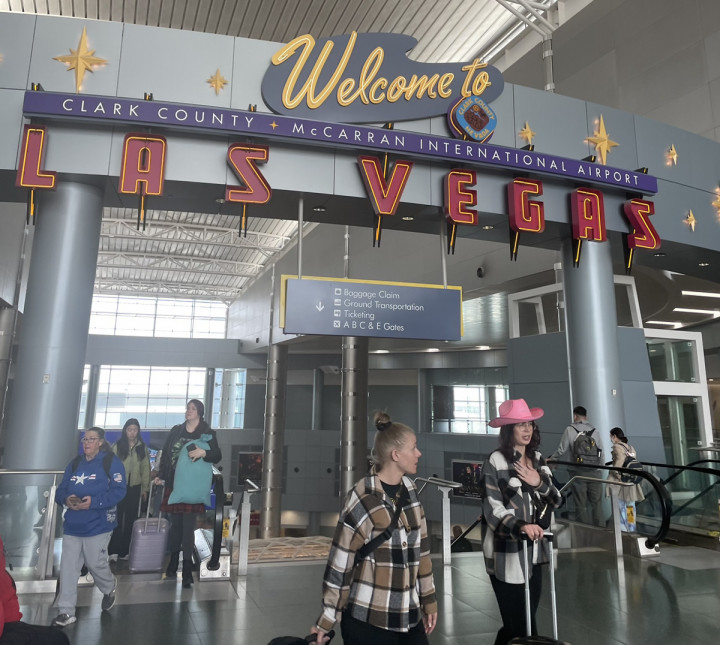 At first glance, it looks like an ordinary airport, but if you turn to the side.
There it is! A slot machine! It's an airport, right?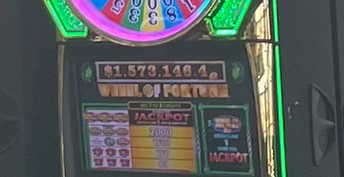 The jackpot is about 200 million yen...
Wow, it's a dream come true!
If you had 200 million yen, what would you spend it on?
I'm the type of person who would probably buy a super car and go broke.
I wonder what kind of atmosphere the exhibition in Las Vegas with such a dream will have.
I'm getting excited!
Let's move on to the venue.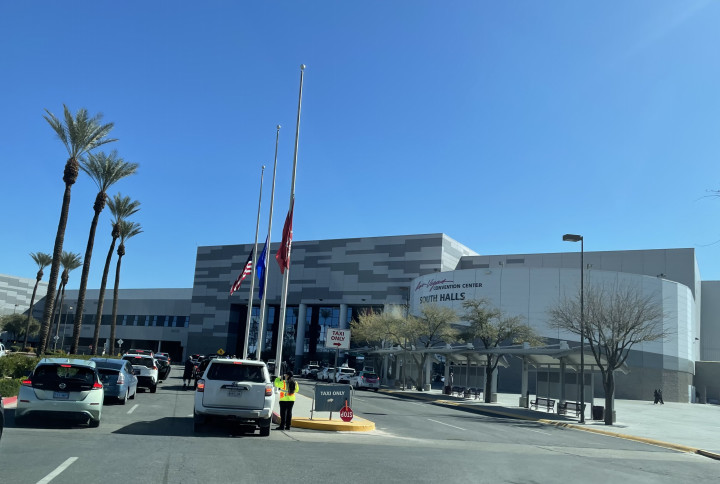 It took about 20 minutes by car from the airport.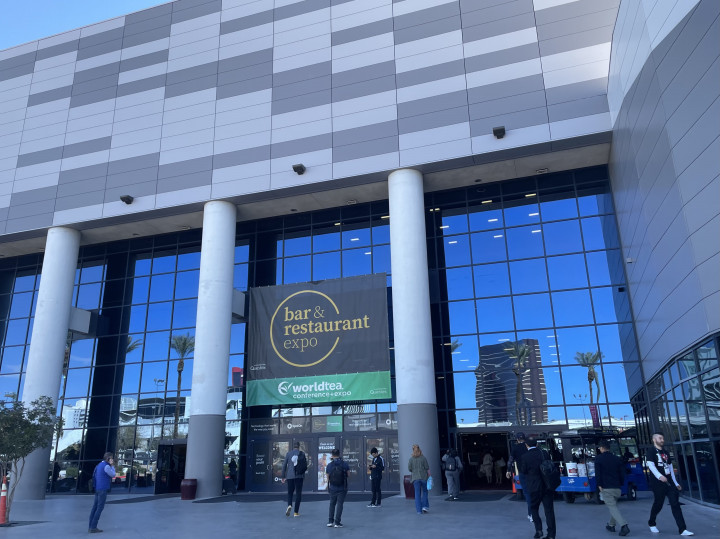 This is the Las Vegas Convention Center, one of the largest exhibition halls in the world.
It is the 23rd largest in the world. By the way, Tokyo Big Sight, the largest in Japan, is the 78th, about half the size of Las Vegas. You can see the scale of the event.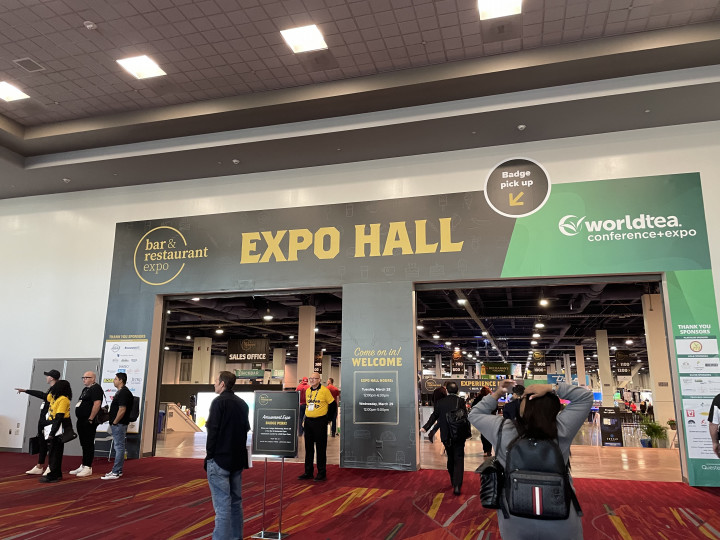 As we proceeded to the back of the building,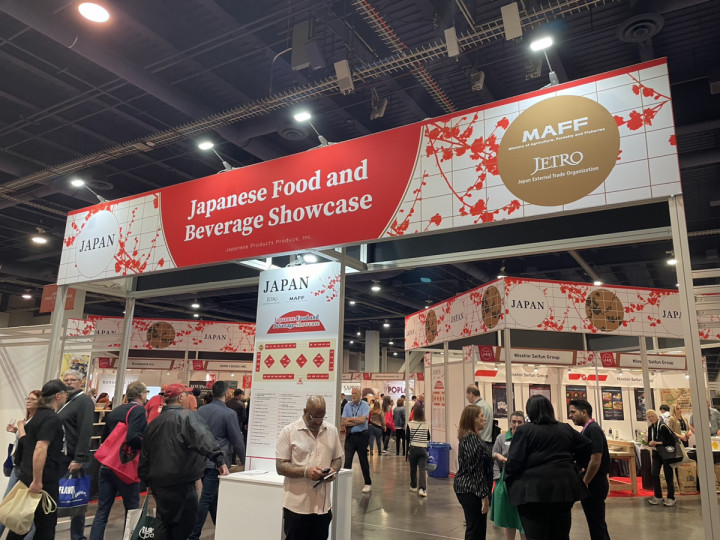 There it was! Our Japan booth!
The crowd was huge right from the start of the show! So many people!
According to local people, exhibitions with Japanese food tasting are very popular in the U.S. and are expected to attract many visitors. This looks promising!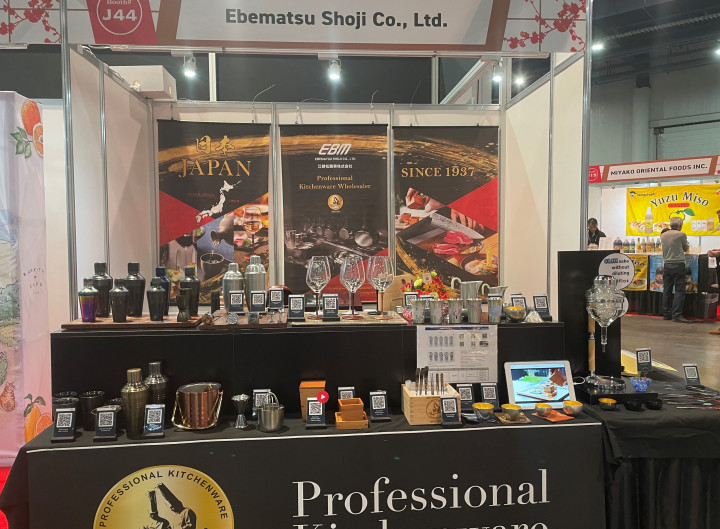 By the way, our booth looked like this.
What's that? Isn't Ebematsu Shoji a company of pots and pans? You might be thinking, "EBEMATSU SHOJI doesn't make pots and pans?
Actually, we also deal in stylish cocktail shakers and drinking vessels!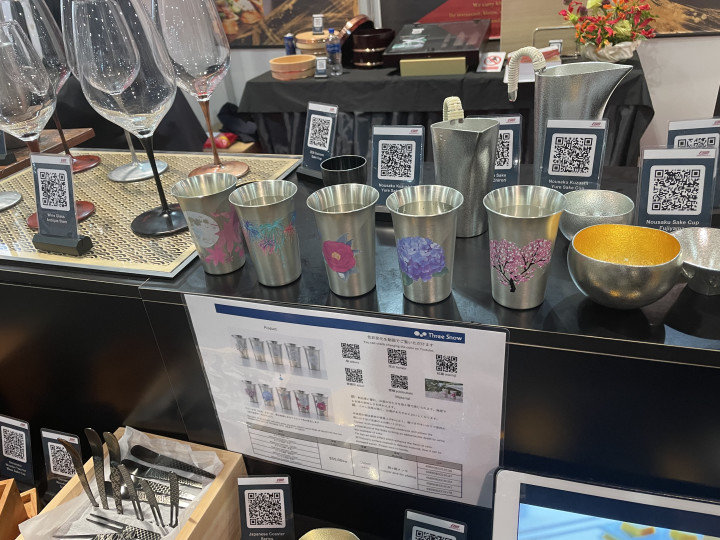 Here are some of the most popular products.
The "Madoromu Sake Cup" series.
Made of copper, it conducts heat extremely well and cools down to a crisp in no time!
Also, it changes color when cold sake is poured into it.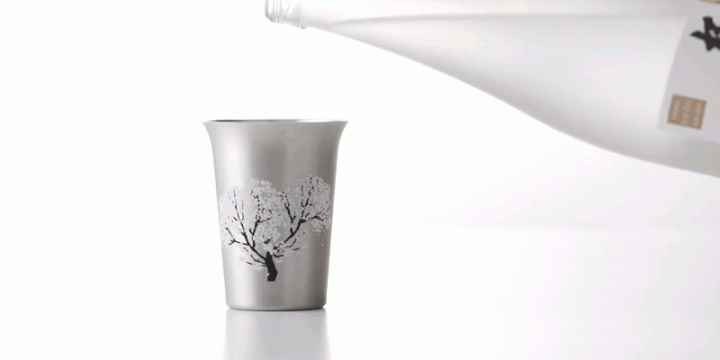 This was a big hit with customers in Las Vegas, where show business is thriving.
It's very Vegas-like! We even received a few comments about it.
The potential of made-in-Tsubame products is amazing.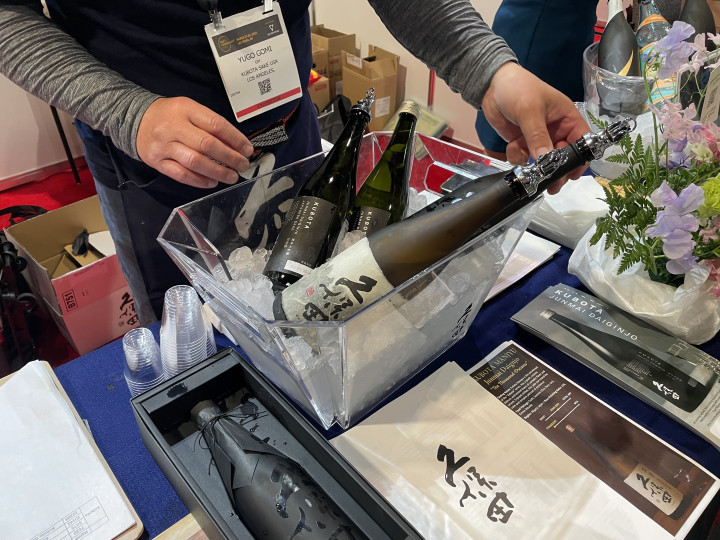 While visiting other booths, I found a sake from my home prefecture of Niigata.
Asahi Shuzo's Kubota is popular both at home and abroad.
Starting with the registration of "Japanese food" as a UNESCO World Intangible Cultural Heritage in 2013
Japanese food has become known around the world with the health-conscious boom.              Along with Japanese food, many SAKE products are exported to the U.S., China, and Korea.
There is always a line of people waiting in line at the booths for tastings!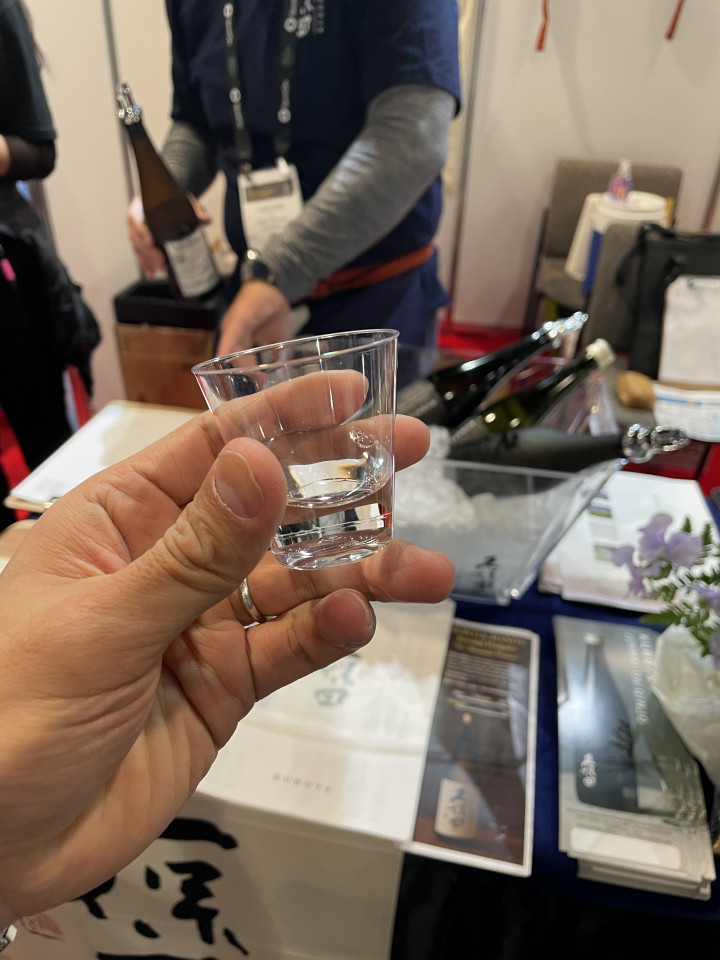 Since we are here, let's try a tasting! (It's my job.)
This is Kubota Manju, a Junmai Daiginjo.
This is the sake that I introduced in my blog the other day, and it is the level of sake that you have to pay to drink at the Niigata Sake Festival...is it OK?
It's good!
Even for those who don't like the bitterness of sake, I recommend this class of sake because it is fruity and sweet.
The taste of Japan, it's so relaxing!
Now that you have felt Niigata in Las Vegas, let's go to the next booth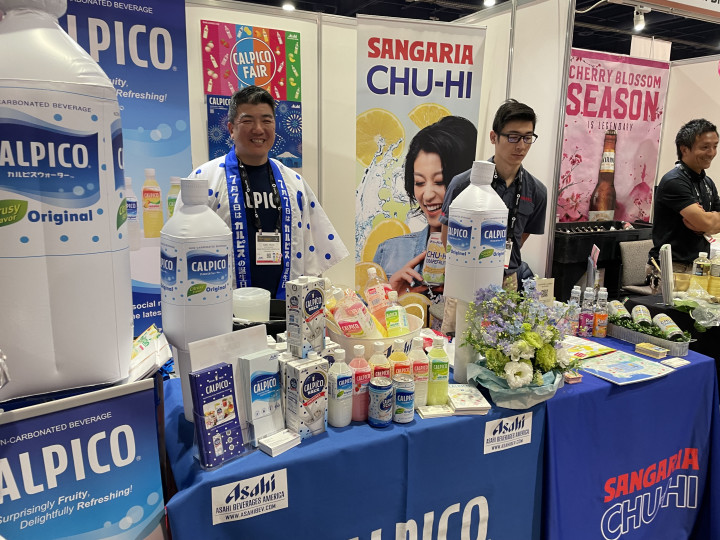 Everyone loves it! Calpico!  Calpico...Cal...Pico?
Isn't that Calpico? What is that? Fake?

Yes, actually, in the U.S. it is known as "Calpico", not Calpis.
(If you are wondering why, please look it up. Do it at your own risk.)
So many things are sold in the U.S. with different naming.
Cars, sweets, and even cartoon characters are often renamed.
There was a story about a product that did not sell well under the name "Yakiniku no Tare," but when the name was changed to "Teriyaki Sauce," the product began to sell well.
Teriyaki Sauce" and it began to sell well. Naming is very important.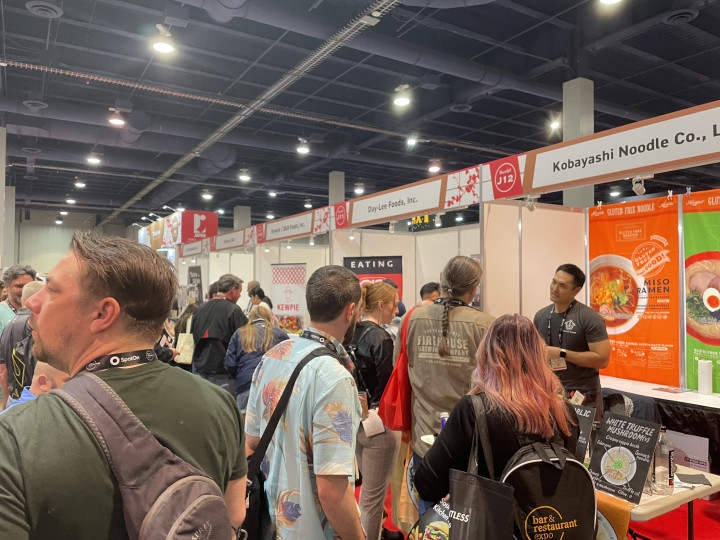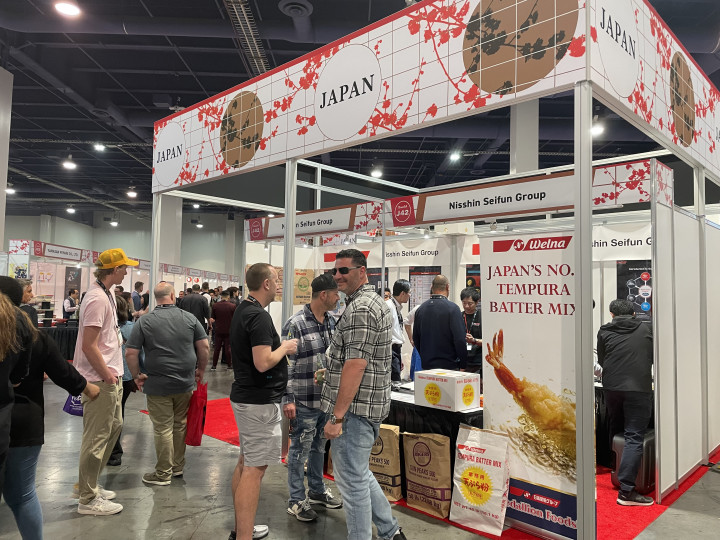 Although it was our first exhibition, many visitors came to our booth, and the two days went by very quickly.
We want to let the world know about Tsubame-Sanjo, Niigata, and Japanese products and provide them with the excitement of eating.
We are engaged in daily sales activities with such a mission.
We are participating in various exhibitions both in Japan and overseas, so please visit us if you have a chance.
The next exhibition will be held at Tokyo Big Sight from June 21 (Tue.) to 23 (Fri.).
We are planning to participate in the "Japanese Food Export Expo" at Tokyo Big Sight from June 21 (Tue.) to June 23 (Fri.). Our booth will be in West 2-26!

We will also be exhibiting barware, so if you are interested, please stop by!
See you soon!